July 2, 2013
Egypt vs. Morsi: What Pics are Trending, and Why
What:
Photos of demonstrators flashing laser pointers at Egyptian military helicopters.
Why:
Surface-to-air muscle flexing meets "e-tagging";
a populist form of civil defense;
a way for citizens to literally mark space in the drone/surveillance era;
the true incarnation of  "a thousand points of light";
a way of admonishing the military that they should politically back off;
(novel as it is for the moment), the creation of wonder;
…and for potency value, did anyone say "Star Wars?"
What:
Vast oceans of pointilist-style teeming masses, multiple examples typically strung together.
Why:
Birds-eye view patterns speak to "mind bending" scale.
(Content-wise, the bird's-eye-view of Muslim prayer is that much more poignant seen as anti-Brotherhood.)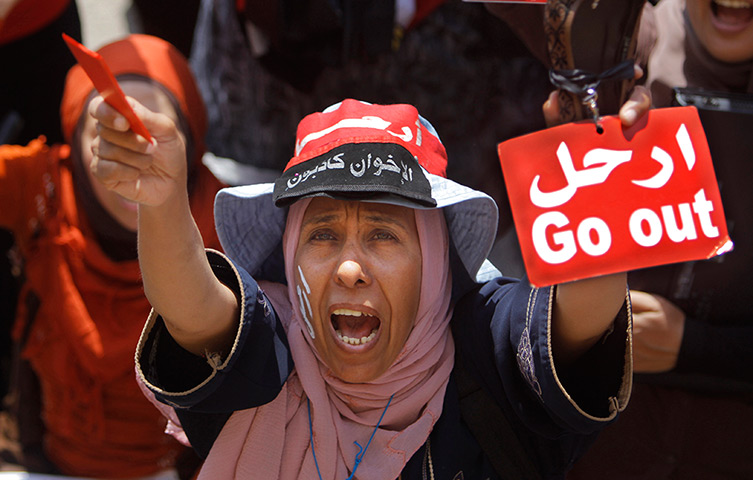 What:
All those variants, in English and Arabic, of: go out; get out; leave.
Why:
Because social media, the ascendency of imagery and the ensuing meme phenomenon has completely repurposed the trenchant protest sign into a global soundbite.
(photo 1: Khaled Desouki/AFP/Getty Images caption: Protesters' laser lights are seen reflected on a military helicopter flying over the presidential palace.photo 2: Virginie Nguyen Hoang/AP caption: An Egyptian protester takes a break while others use green laser pointers during clashes between protesters and Egyptian security forces in Downtown Cairo, Egypt on Monday, Jan. 28, 2013. photo 3: Manu Brabo/AP caption: Hundreds of thousands of Egyptians gather in Tahrir Square on Sunday for anti-Morsi demonstrations. photo 4: KHALED DESOUKIKHALED DESOUKI/AFP/Getty Images caption: Thousands of opponents of Egyptian President Mohamed Morsi pray during a protest calling for his ouster at Cairo's landmark Tahrir Square on June 30, 2013. Thousands of Morsi's opponents protested on the first anniversary of his inauguration, determined to oust him as his Islamist supporters vowed to defend his legitimacy to the end. photo 5 & 6: Amr Nabil/AP caption 5: A protester shouts slogans in Tahrir Square.)caption 6: An Egyptian protester holds anti-President Mohammed Morsi poster and a red card with Arabic word "Leave" during a protest in Cairo, Egypt, Saturday, June 29, 2013. Thousands of supporters and opponents of the embattled Islamist president held rival sit-ins in separate parts of Cairo Saturday on the eve of opposition-led mass protests aimed at forcing Mohammed Morsi from power.)